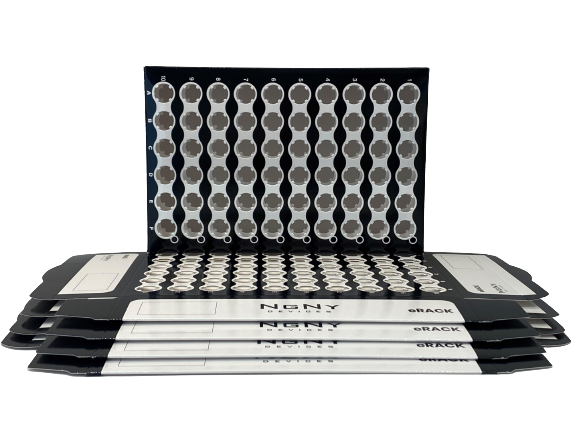 Changing the use of racks in the laboratory flow
Clinical samples flow in 7 steps
Low space when folded, eRACKS are built on demand.
eRACKS filled as required. All tube sizes fit.
Samples directly sent to the labs on the eRACKS.
Directly load eRACKS in lab automation.
Use eRACKS to bring samples to the Analyzers
Reuse empty eRACKS for archive purpose.
Safe disposal, without manipulation.
No need to
manipulate samples
clean and sterilize racks
send empty racks back to extraction centers

The cardboard racks can be identified with a label (TAG) with both RFID and readable barcode.
The barcode of the rack would be stored in the RFID tag, as well as  all the sample codes and their  positions.
Once the rack is read in the lab, the LIS knows what tubes have  arrived.